Reginald Clark was amazing as my realtor. He is professional, kind, and very knowledgeable. During our time working together, he communicated regularly with me, answered all of my questions, and advocated for me. I really appreciate that he listened to thoroughly understand my goals and needs. Further, because of the nature of the market, there were changes to my plans. Nonetheless, Reginald consistently responded in a prompt and solutions-oriented manner. I am truly thankful. I have already recommended him to several family members and hope to do further business with him in the near future!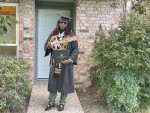 Reginald made my home buying process seamless. He was able to present me with the perfect home that i had envisioned for my future here in Houston. He was very accommodating to my needs as i can be tunnel visioned at times and not willing to compromise. He even helped setting me up with several loan officers, to maximize my chances of securing a loan. I was so surprised at the dedication of this realtor because he was open and able to work on buying experience late nights and sometimes VERY EARLY MORNINGS. At the end of the day, he delivered to me the best property i could have asked for. Thanks Reginald!!!!!
Mr. Clark has been extremely helpful with my leasing needs.